---
17 Feb 2020 - The moon in Infra red
---
While doing a thermal imaging infra-red survey of a home recently, in the early morning, the moon was brilliant in the sky.
So we took a thermal image of it.
Now, we are no experts in astronomical thermal imaging, but still with the camera on full zoom the image was as we say in these part, a bit of craic!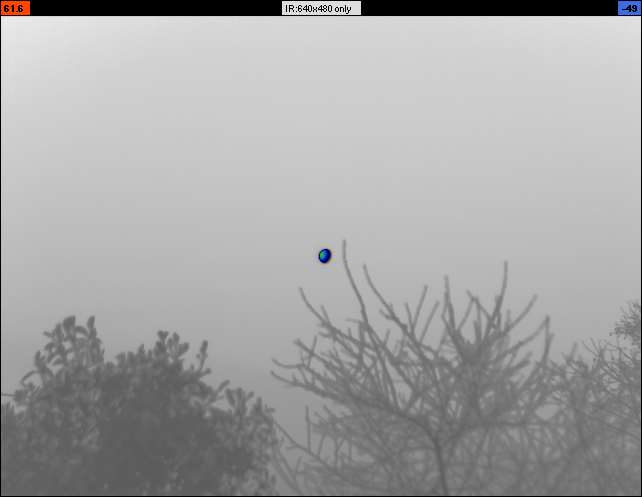 original full image - moon waning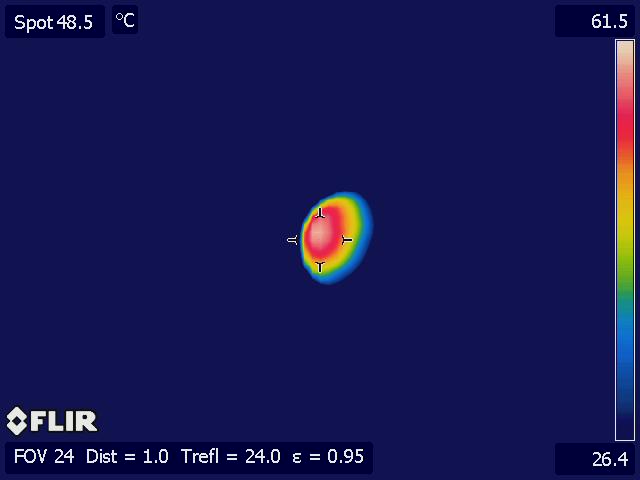 smoothed out, zoomed in thermogram (thermal image) of moon waning
Note that we did not alter the camera settings for this image
---
10 Feb 2020 - Airtightness of Blockwork - Part 4
---
Back in 2013 we had a little series about the airtightness, or not, of concrete blocks. Over the years we have had reason to talk to quite a few people about this. (See previous blog entry from 2013
here
).
Today was the first time in a while where we have had to explicitly show a site supervisor why doing a pretest on a building with completed membrane, but incomplete plaster layer on blockwork does not make a lot of sense.
Of course, we did a test as requested, no surprise that the result is over 10 m3/hr.m2, but to be fair that should improve massively once the plaster layer is complete.
| | | |
| --- | --- | --- |
| Example of condition of building during test - membrane complete, window taping complete, no plaster on walls | Example of a leak at a mortar joint - one of very many | Example of leakage through the block itself |
The story in the 3 images above is this:
the left image shows the condition of the wall in overview - well done, tidy blockwork.
The middle pic shows a typical kind of 'mortar joint' leak as is very common in blockwork.
If we could have counted these in this house, there may have been thousands.
The right hand pic shows a segment of only block taped off loosely. This means there is no mortar joint there, and yet still air leakage.
The main interest here, as we have not really shown this in the 2013 sequence, the leakage is through the block grain itself.
We could have a bit of fun with numbers and just pretend for fun that the hole size here at the tape is 2cm
2
.
If so, then the air volume through this 1/2 block in test conditions is 0.01 m3/hr, so the whole block could be 0.02 m3/hr.
If there are about 10 blocks per square meter, and the wall area in this house is 260 m2, allowing even 15% of that to be mortar (a bit high), say we have 220 m2 of blockwork, so that is ca 2200 blocks, which is then about 2200 * 0.02 = 44 m3/hr.
To be fair, the vastly greater proportion of leakages through unplastered blockwork is through the mortar joints - this leakage here directly through the block grain on a very rough sum is only about 1% of the observed leakage rate (but it still counts!)